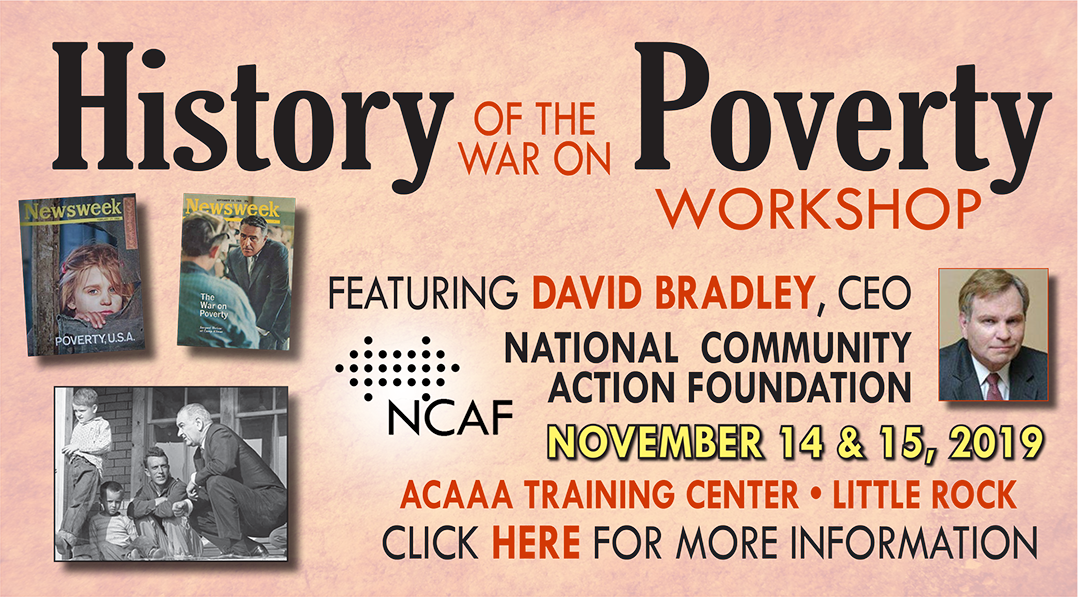 Join David Bradley as he goes through over 50 years of the War on Poverty and Community Action with his unique insight and rarely-seen archival footage.
The Arkansas Community Action Agencies Association will be hosting a History of the War on Poverty Workshop—presented by David Bradley, CEO of the National Community Action Foundation (NCAF)—on November 14 & 15 at the association's Training Center in Little Rock.  Thursday's session will be from 1:00 to 4:30 p.m., and Friday's from 8:30 a.m. to 3:00 p.m.
With a treasure trove of video and audio archives and enlightening discussions, the War on Poverty Workshop offers the most in-depth history of the War on Poverty and Community Action to date. Having been intimately involved with CSBG and Community Action Agencies since their creation in 1981, Bradley offers tremendous insight into the intricacies and hardships involving the 50-year war on Poverty. This workshop's a must-see for Community Action veterans and those new to the network alike!
Registration is $125 per attendee.  To register, please contact ACAAA Programs & Development Director Tamerdis Baker via email at tbaker@acaaa.org.  Registration deadline is October 18.  Lunch will be provided Friday.
Attendees are encouraged to make hotel reservations as soon as possible.  ACAAA has secured a room rate of $94/night (including full breakfast) from the Wyndham Riverfront Hotel — register here.