---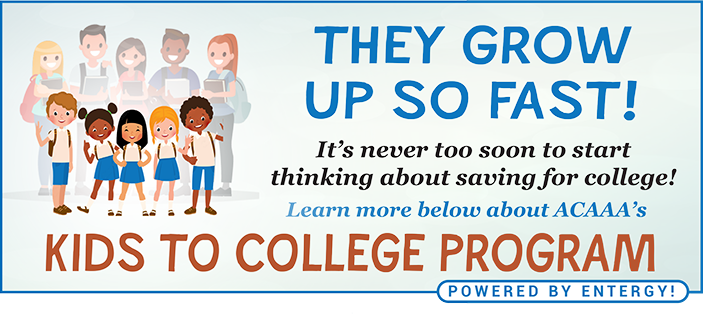 The Arkansas Community Action Agencies Association's Kids to College Progam is a college savings program for children of Entergy customers who meet certain income requirements.
Included in the program is a one-time $50 match offered by Entergy!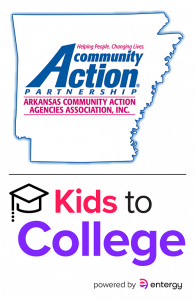 The program is for children 16 years or younger whose legal parent or guardian is an Entergy customer. Once eligibility is verified, a match account will be opened; the $50 match is linked once the participating family saves $50 (within period of program).
Guardianship status may be confirmed via previous year's tax return; birth certficate; legal/court document; copy of report card; or benefit determination or award letter. • Proof of child age can include birth certificate; government-issued photo identification; tax return; copy of report card; or immunization card.
Income requirements • Participants' annual income must be at or below $52,000 (single) or $60,000 (couple). Proof of income can include previous year's tax return; benefit determination letter; LIHEAP notice of action; current EBT card; Section 8 worksheet; one months' check stubs; W2(s); bank statement showing direct deposits from employer; or self-certification.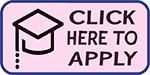 Participants must be children of Entergy customers • Proof of customer address can include a recent Entergy bill; Entergy account number; or an Entergy help desk query.
For questions, contact ACAAA via email at ARKids2College@acaaa.org. To apply, click here.
---