When:
February 9, 2016 – February 11, 2016
all-day
2016-02-09T00:00:00-06:00
2016-02-12T00:00:00-06:00
Where:
Clarion Hotel Medical Center – Midtown
925 S University Ave
Little Rock, AR 72204
USA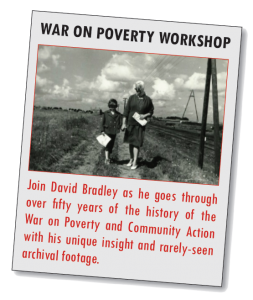 The Workshop takes all participants on a journey from LBJ declaring an "unconditional War on Poverty" in 1964 through Paul Ryan's 2014 "Path to Prosperity." With more than 8 hours of video and audio archives and enlightening discussion, the 3-day War on Poverty Workshop offers the most in-depth history of the War on Poverty and Community Action to date. Having been intimately involved with CSBG and Community Action Agencies since their creation in 1981, Bradley offers tremendous insight into the intricacies and hardships involving the 50-year War on Poverty. This workshop's a must-see for Community Action veterans and those new to the network alike!
Download a meeting flier with a tentative agenda here.
ACAAA members can download a registration form here.
Non–ACAAA members can download a registration form here.